This mod has a bunch of popular players from Scottland. Now on singleplayer you will have server members on your map! Each individual npc has an item that they hold and drop that represent them or what they are like.
This mod includes ZackScott, iWolfyyy, Trololinda,TotallyBubbles, Heytallman, Spintown, sicknessxo, Padennn, Evilmacaroon, Ashleysmash, Tristenseide, LDShadowLady, ThePhantomMence, Olirulz_747, NinjaMarion, Moesboy, MercKing92, Griffan, TwoFace240, brettcm82, Crazykickasskate, BreederJosh, Bloodyhoody, SwimmingBird941, and The_BedStealer. More Players coming soon.
This mod was created by Binh Do.
Rar Version http://www.mediafire.com/?mb2khkc26z2fh5h
Zip Version http://www.mediafire.com/?wb3sefkei2gtojv
Windows Installation
Go to Start then to run and type in %appdata%
Then open up the minecraft folder and go into bin and open up minecraft.jar with winrar.
Delete Meta-Inf
Download Modloader
Take all the contents from both of them and drag them into your minecraft.jar.
Then you are DONE Thanks for installing the mod. Can someone post pictures please?
WARNING MAC IS NOT FLAMMABLE.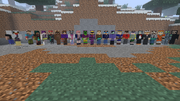 Community content is available under
CC-BY-SA
unless otherwise noted.