The Mounce Hotel

The front view

Status:

Original: Inactive, New One: Active

Coordinates:

X:-450,Y:82,Z:-21

First Appearance:

Episode 269 - Musical Bridge and More

Builders:
The Mounce Hotel was a large, diamond-shaped building made entirely of wood. It had low ceilings, no hallways, and several balconies overlooking Brett's area.
Originally burnt down by Brett, rebuilding the hotel became a running gag, as Zack would constantly make ridiculous deadlines, such as Brett having to rebuild the hotel for the Episode 300 download, which he was unable to do. For unknown reasons, many of Brett's creations get taken down soon after they are built. These destructions are claimed to be caused by Endermen, as Zack has stated in many videos.
Brett said that he was rebuilding the Mounce Hotel in the nether, but out of cobblestone so it could not be burnt down by a ghast.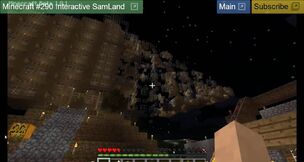 Community content is available under
CC-BY-SA
unless otherwise noted.