YesGagaSlayMama



Name:

Travis

Gender:

Unicorn

Status:

Active

First Appearance:

Episode 350 - Webcam Fun? (November 8, 2011)

YouTube:
YesGagaSlayMama 
(formally known as
the1andonlytrav
)
is a member of
Scottland
.
He is known throughout Scottland for being incredibly helpful, often offering items to people at no cost, not to mention that he is extremely hyper and chats a lot.
Trivia
Ironically, he and Spintown both share the name Travis, contradicting his username.
Contrary to popular belief, Trav isn't even close to being striaght. If there was a term for homosexualiy that was 100x past homosexuality he would be it. Yeah...something like that.
His YouTube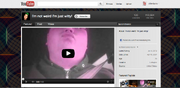 Community content is available under
CC-BY-SA
unless otherwise noted.