Shadow Lands



Status

Active

Coordinates

X:-177,Y:70,Z:-79

First Appearance

No information

Builders
The Shadow Lands is LDShadowLady's area on the Scottland server. It was given this name by viewers when Lizzie asked for suggestions.
The Shadow Lands consists of several attractions of note, such as a barn serving as a storage room, a train station leading into Super Tunnel, a chicken statue, similar to the ones in the Chicken Temple, with a passage to an underground garden inspired by Ashley's skull, a pixel art of Nyan Cat, the Museum of Natural Lizzzstery, several hot-air balloons, a few farms, and a tavern without a bar. Just opposite of the bar, there is an alchemy tower that only serves aesthetic purposes.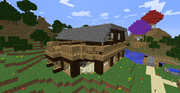 There once was a large, wooden house serving as Lizzie's house, but it had fallen to one of
heytallman
's (
Mac
's) acts of terrorism, leading to the "Who Blew it Up?" episode (Episode 299). This acts was later known as "Whodunnit". Lizzie has since built a new house upon the ruins.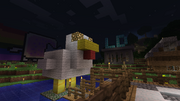 Trivia
Lizzie has had three houses, the one found in her beginner Minecraft videos, the one Ashley built, and the one she built after the Whodunnit.
Links
Community content is available under
CC-BY-SA
unless otherwise noted.