Scottland Space Needle

The Scottland Space Needle at night.

Status:

Active

Coordinates:

X:106,Z:-145

First Appearance:

Episode 436 - Space Needle

Builders:
"You guys said I don't build anymore...which was true, until yesterday. Hehe."
Summary
The Scottland Space Needle is an observation building built by Zack Scott and is currently the tallest freestanding structure in centralized Scottland . In the episode in which it first appears completed, Episode 436-Space Needle, Zack explains he wanted to have a building where people could overlook all of central Scottland. To better match some of the surrounding structures, the materials used to create it are an organized combination of Stone, Iron, Obsidian and Glowstone(so it could light up at night). There are two observation platorms near the top of the structure; one is enclosed and surrounded by glass, and the other one, which is higher up, is outside. Zack compares it to the Stratosphere in Las Vegas, Nevada, which he frequently reminds viewers that he did not like because of how frighteneing it was. He even goes as far as to advise his viewers not to go to the Stratosphere, unless you're a thrill seeker.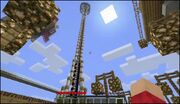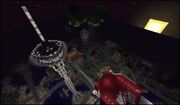 The timing of the Space Needle's construction couldn't be more worrisome with the recent arrival of the new super-villain, the Bed Stealer , who has vowed to decimate all of Scottland. However some could look at Zack's building of the Space Needle as an act of patriotism and defiance...but it was probably just because he was bored. Time will tell how long the grand skyscraper will last.
Trivia
The recent elevation by Zack of the Sky Dicks now have them visible at eye level for anyone on the first observation deck of the Space Needle.
In the episode in which the building is introduced, John puts "insert penis joke" on the text prompt after Zack types "recording something small...almost done".
Brett was the first Scottland player to attempt griefing the Space Needle. He failed almost instantly at destroying it as he was trying to use flint and steel on the obsidian parts of the tower.
Community content is available under
CC-BY-SA
unless otherwise noted.