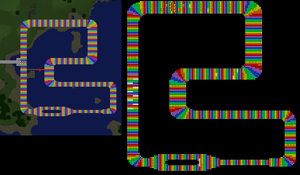 Rainbow Road is a minecart track built by Spintown with help from NinjaMarion near the Cobble Bitch made to resemble the Rainbow Road track from Super Mario Kart and Mario Kart 7.
It was featured in Episode 211 - Rainbow Road and it is composed of 2 tracks where players race around to see who comes in first. To add to the challenge, players must react quickly once the hoster has said "Go". It also has a height chart posted on a sign in order to see if you are tall enough to ride.
Zack jokingly claims that Spin had duped the wool in order to have enough to make the track. Spin then clarifies that he in fact did not have enough wool himself; rather, he took out a loan from Ninja to finish building the other half of the track.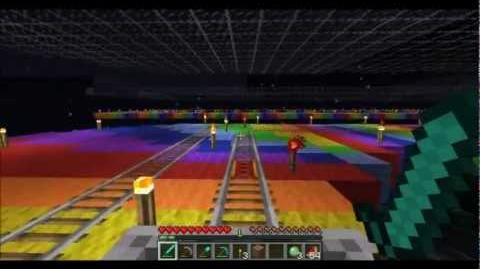 Episode 2, Sp1. It1 - Rain.bow2 Road
Episode 211 - Rainbow Road
Episode 211 - Rainbow Road
Community content is available under
CC-BY-SA
unless otherwise noted.