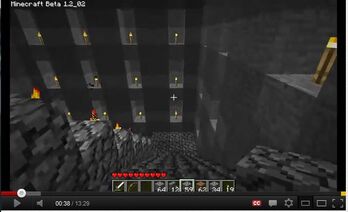 Stairs and Lava Control Timelapse
is the ninth episode of ZackScott's Minecraft series.
Summary
Zack got a suggestion from a viewer to explore caverns ormake a timelapse of him building. He chose the timelapse so he begins work on the Spiral Staircase in Scott Mining Corporate Headquarters.During the building Zack encounters troublesome lava, he tries to dig around it but it fails, he then seeks help from Ashley, who tells him destroy the source block. Zack then fails at finding the source block so he starts asking Ashley again, she tells him to cover the lava with Gravel. He then talks about having mineshafts in the staircase to which he wants connected to spawn he also talks about Super Tunnel so Brock can intersect with it and he can make a door area. He also mentions he will keep it looking natural. One of the other things that he talks about fans who want to gain access to the server. He discusses that the server at that point in time could only hold 16 and discusses why the players that are there are there. He finally finishes the staircase and discusses it goes all the way down. He finally says he needs to finish adding walls and torches and he needs to make it look in general like the top.
Community content is available under
CC-BY-SA
unless otherwise noted.