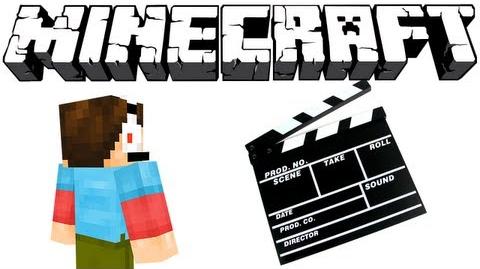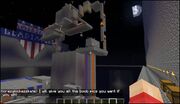 Behind the Scenes is the 813th episode of ZackScott's Minecraft series. It is part of the 5th Season and was released on April 9th, 2013.
Summary
This episode begins with Zack at the now destroyed and overgrown Spawn , telling the viewers that "something crazy" is going on in Scottland and that he isn't even a part of it. His goal is to give the viewers a "behind the scenes" look at Scottland, which means observing some of the other players going about special events they've set up that doesn't really involve Zack or his Minecraft YouTube series.
He teleports to everyone's location and finds them having an American Gladiators tournament at Spintown 's Cobble Bitch . He shows who all is currently in Scottland, including a few new members, Javier, Lmac77, TheCampingRusher, and TurtleGuy123456, who Zack notes is good at counting "up to six". 
During a discussion about Kate 's boobs, Zack mentions the people currently updating the Wiki and he thanks them for it (you're welcome Zack!). I feel all warm and fuzzy.
Zack then leaves the call with the others and goes back to Scottland. He visits Nova Scottia and briefly talks to the viewers about building a new "survival" world and asks them for name suggestions for this new world. He also says he would like to make "a new challenge" that might involve the Nether. While Zack admits he loves minigames, he says will be doing a lot more episodes in Scottland soon. The episode ends with Mr. Scott stumbling into Mac 's secret "Sex Dungeon" and noting that it pretty much the same as her real one. He then says, "Pretty...pretty accurate. I thought it was gonna be embellished a little bit."
Community content is available under
CC-BY-SA
unless otherwise noted.