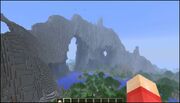 Beautiful Mountains is the 771st episode of ZackScott's Minecraft series. It is part of 4th Season and was released on February 26th, 2013.
Summary
The episode begins with Zack standing in Mac's Pussy Temple. He then flies over to a new section of mountains that Ashley constructed that don't look anything like any of the other mountains in Scottland. The majority of the episode deals with Ashley explaining how she made the new mountains as well a charming Medieval-fantasy style town that has a unique architecture.
Ashley explains that she is a big fan of YouTuber, BdoubleO100's building style and decided to adopt it for the new town. Zack and the others are impressed with Mac going as far as saying the town is "really really cute".
Near the end of the episode, Zack tells his viewers make some name suggestions for the new town. Some potential names are blurted out by geoffrobro, Adam, Brett, and Griffan including CinderTown, CinderBerry, Ashwood (a name I personally like), penis, and Asian Squirter.
Quotes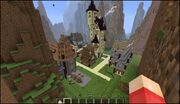 "I'm gonna make your cumquat."
"Do you wanna hear about my Medieval fantasy? Ok so we're standing there and there's a dragon but we're both naked and so-"
"He plays gayvival."
"Mac I don't know about you but all of the films I've seen with dragons; they're all fully clothed."
Community content is available under
CC-BY-SA
unless otherwise noted.